We had the opportunity to interview Alexa McPhee (Vermont, 2001) who worked as an international intern at Delonia during the summer of 2022. In particular, she worked with José María Corsino and Amelia Uceda on issues related to marketing in general and captive insurance and employee benefits in particular.
Why did you decide to study Spanish?
"I chose Spanish because in 2015 I had the opportunity to be part of an exchange for foreign students in Pont de Suerte (Lleida, Spain) and I was hosted by a lovely family. I got to know Barcelona, fell in love with the culture and wanted to learn more Spanish. In Pont de Suert most people spoke Catalan but with me they communicated in Spanish."
European Tour
Marketing lessons
"I decided to return to Spain because of the experience I had had the first time I was here. My goal was to learn more about a country with such a rich culture and history. I lived in Alicante for five months, before going to Madrid to work at Delonia as an intern. During my months in Spain I was able to explore many cities: Granada, Seville, Valencia, Barcelona and Mallorca. I enjoyed fantastic mountain hikes, spent time on different beaches, attended cooking and dance classes, dined and drank with Spanish people, visited museums and other attractions… I did that and much more. Thanks to a few cheap flights and cheap trains I visited other European countries: France, Italy, Belgium, the Netherlands, Portugal and Switzerland, Amsterdam was a city I loved and the scenery in Switzerland is spectacular."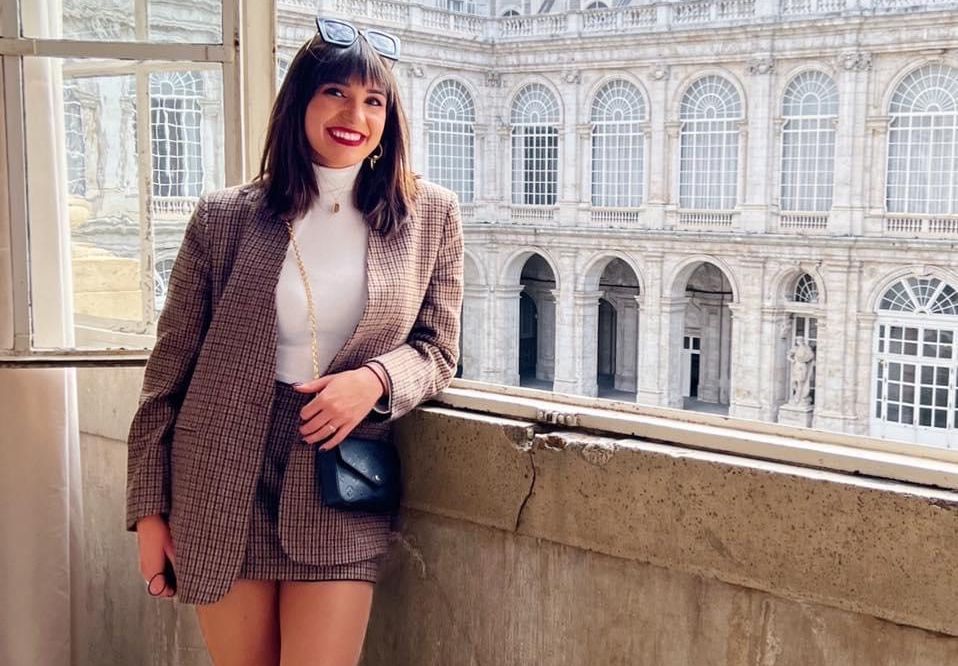 Can you talk a little bit about your experience in Delonia?
"At Delonia I worked together with another intern, Mika (Jotanovic). We studied aspects of potential customers and competitors, produced various reports and articles, in addition to delving into Delonia's marketing strategy. On the other hand, we prepared different contents about employee benefits and captive insurance companies, which were then published on the company's website and LinkedIn profile. Delonia colleagues wrote them in Spanish and we produced an English version."
What are the differences between working for an American and a Spanish company?
"I would say that the biggest difference I noticed is that the atmosphere in the Spanish offices is much more relaxed and friendly than in the offices I have worked in the United States. People are more helpful and you feel more at ease. It was very easy for me to ask my colleagues whenever I needed help. We were on a first-name basis, even when talking to a boss. In the US, my bosses expect me to use Mr. or Mrs. when addressing them."
The atmosphere in the Spanish offices is much more relaxed and friendly than in the offices I have worked in the United States.
What did you like most and least about your adventure in Spain?
"I like almost everything about Spain, the people, the architecture, the music, the food, the wine, but I would say that the heat in Madrid in the summer was almost unbearable. Coming from the north of the United States, I had never experienced such a 'fire'. From June to August it was hard to go outside. I would love to be able to go back to Madrid, but I would need to be in an air-conditioned flat!"
What did you like most and least about your experience at Delonia?
"I really enjoyed working with my colleagues. I learned a lot about the captive insurance world and how to 'sell' digital platforms. I regret not speaking more Spanish in the office. I was nervous to do so, so it was my fault that I communicated mostly in English. It was a bit of a missed opportunity, but when I forced myself to speak Spanish everyone was always very patient and willing to help me. I really enjoyed the midday meals in the office, with colleagues from Delonia and with other interns like me."
I regret not speaking more Spanish in the office.
Why did you choose Delonia?
"I wanted to learn more about the captive insurance industry and improve my marketing skills. You could say that at Delonia I had my first, and so far only, job interview in Spain."
Marketing lessons
What did you learn in Delonia?
"I learned the ins and outs of the captive insurance industry. I discovered the world of employee benefits, best practices for marketing… During my time at Delonia I studied the advantages and disadvantages of captive insurers. I investigated which companies could benefit from having a captive. I looked at how employee benefits are approached in Spain. I studied which companies could benefit from the employee benefits platform that Delonia has created."
Do you think your experience at Delonia will help you in your career?
"It has already because it helped me get into Monster Energyas an intern! They were impressed that I had worked for Delonia and my experience abroad!"
Would you recommend another student to work as an intern at Delonia?
"Of course, my experience there as an intern allowed me to start getting to know the world of work. I learned a lot about marketing, sales… I had the opportunity to work with an international team – I couldn't have asked for better teachers and peers!"
We would like to thank Alexa McPhee for her willingness to answer our questions at all times. Despite the time difference between the United States and Spain and the fact that we caught her in the middle of her exams (as well as looking for a job), she always found time to answer our questions. We wish her all the best in her future professional life and we wouldn't be surprised to see her again in her beloved Spain.