Insurance and Reinsurance
Insurance Suite
We help companies to become Digital Insurers thanks to our experience in the sector, the analysis of each business and the technological solutions that make up our suite.
Delonia's Insurance Suite provides the specific solutions that insurance companies need to meet the challenges of digitisation while complying with the demands of a highly regulated industry. It is not just about offering a catalogue of solutions because technology, without deep business expertise, does not lead to success.
Delonia's priority is to define a horizon of security and transparency for the companies we work with. We are well aware of what needs to be covered and what fears slow down the decisions to be taken. From this experience, we provide modular, parameterised and integrable solutions that can work with the company's previous systems as an additional element. In this way, they will be able to gain space in the company's processes in a smooth procedure. If the insurer is still operating with legacy systems that are not adapted to the demands of today's customers, we will facilitate this transition with migration formulas from legacy systems to Delonia's solutions.
The focus of our suite is always on the company's customers and their needs. In order to meet your current and future demands, it will be essential to know you by collecting your data within the framework of the law. The key is not what can be done with this data. The important thing is to know what needs to be done to make them available and of sufficient quality to process them in business intelligence systems, providing value to the customer and not only to the company.
Modular system
Adaptable both in terms of branches/products and functional scope. We encourage incremental and progressive change with solutions available from the cloud to more traditional installations.
Legacy Transformation
In order to provide the best service to an insurance company, it is necessary to know very well how to handle previous legacy technologies that often hinder the pace of progress of a project. We offer practical and tailor-made solutions.
Digital marketing
We provide monitoring services on online marketing actions for marketing channels and customer relations, being able to track impact and conversion in the business.
Automation
We focus on automating processes to limit human involvement in manual tasks. In this way we optimise operations by reducing costs and improving the customer experience by enhancing customer engagement.
Regulatory compliance
Our solutions are adapted to the legislation applicable to each country and to the specific regulations of each business process: RGPD, LINF, ISO 27001, ISO 27701, ISO 22301, UNE 19601 among others.
Mobility
Mobile channels are available thanks to the Apps solution, both for Android and iPhone, which are adapted to the needs of each company.
Transparency
Our solutions facilitate seamless interaction with the customer through all channels that the company wants to enable. In doing so, we offer a personalised and transparent experience that facilitates customer acquisition and retention.
Advanced analytics
Our technology enables detailed, large-scale analysis of company data to improve productivity, competitiveness and, above all, knowledge of the customer in order to reach them with customised solutions.
Technical and accounting control
Product development, premium and tariff setting and accounting control. The functions defined in the Solvency II framework, actuarial function, internal audit, compliance and others are covered.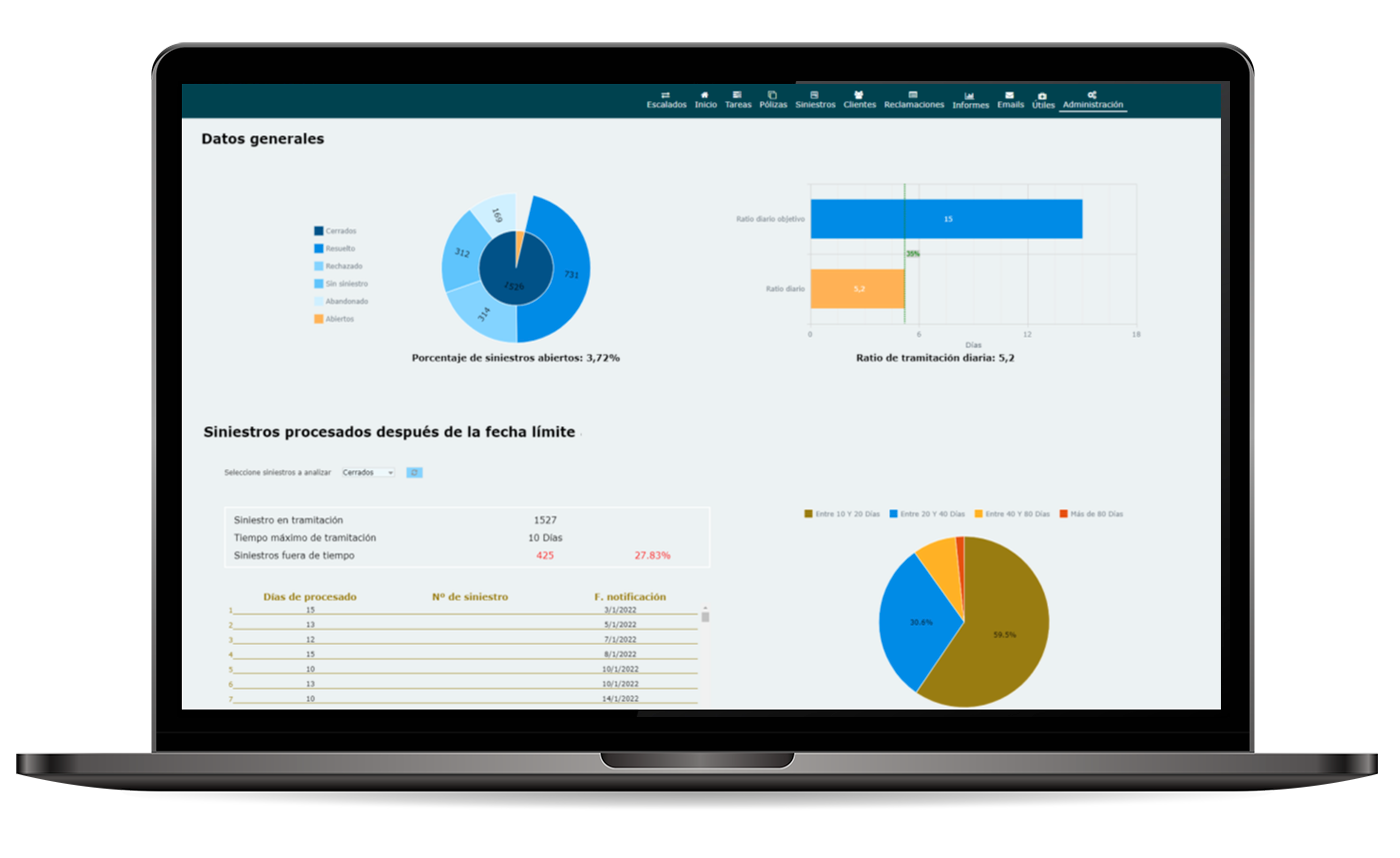 Comprehensive management for insurance companies in various lines of business:
Personal life, accident, health and dependency insurance.
Damage and property insurance for cars, multi-risk, credit, transport, fire, civil liability and others.
Insurance for the provision of health care or legal defence services.
Product pricing and underwriting
Supported by a powerful Product Workshop that enables intelligent management of rates, discounts, commissions and other commercial and technical aspects of insurance.
Claims management
We can customize specific solutions depending on the insurance branch, to provide support from purely technical-accounting management to the total operation of the service provision.
Management of receipts / settlements
Complete management of payments and collections: receipts, deductibles and co-payments. Integration of payment methods (SEPA, card, and Subscription). Settlement of suppliers and settlement of commissions and mediation.
Reporting / dashboard
Business management tool to measure performance and results from a strategic point of view. Reporting and support for regulatory compliance needs (Solvency II, IFRS-17 and others).
Policy life cycle
Complete management of the policy lifecycle from issuance through renewal to cancellation, analysing the evolution of the stages and supporting the different areas involved.
Authorizing module
Authorization module on subscription, access to services and control over claims processing, adapted to different operations and branches. Aimed at limiting manual operations and increasing control over the activity to gain efficiency.
Fraud detection and assessment
Through a data analytics system aimed at preventing and detecting fraud, reducing losses and risks in the company.
Complaints module
Comprehensive management of the entire lifecycle of a claim with customised solutions adapted to each company and to the legislation of each area and country. Definition of phases and roles of users and exhaustive process control.