Insurance and Reinsurance
Insurance Mediation Suite
We have been working for more than two decades with leading large risk insurance and reinsurance intermediaries, implementing solutions in several countries in Europe and America.
Our solutions meet the needs of insurance intermediaries and brokers, and are backed by a long history of work in the sector. We have evolved the functionalities and technology from the experience we have gained and from the transformation of the sector itself towards increasingly digital practices.
We work to provide complete management of the client portfolio: online contracting, bill collection, claims management, document management in all processes, pricing engine to define products and calculation rules and workflow systems for work distribution, among other functionalities. Our priority is to adapt to the particularities of the mediator's business. In this way we can offer modules that provide solutions to specific needs in different areas such as risk placement, placement or financial control, always ensuring results based on experience.
Our area of expertise is in insurance intermediation solutions for insurers, reinsurers and large risk managers. To automate and manage the bidding, quoting and underwriting of these large risks by allowing the risk owner to follow the flow of his project through to the closing of the hedge order.
The aim is to enhance the mediator's work, to make his or her contribution stand out and to ensure that the mediating entity has all the information it needs to provide the customer with the best possible service.
Flexible scope
Solutions adaptable both in terms of functional scope and the size of the products to be managed. Our solutions allow you to add new lines of business and products, companies and mediation services as needed.
Parameterization
Parameterizable system for capturing and managing data, both for the billing and subscription modules and for claims, which enables the exploitation capacity of these data.
Systems integration
Integrable with the companies, the mediator will have centralised all customer information, providing value from the exhaustive knowledge of the operations in which it intervenes.
Systems integration
Integrable with the companies, the mediator will have centralised all customer information, providing value from the exhaustive knowledge of the operations in which it intervenes.
Control
Incorporation of accounting and auditing control over policy and claims operations, being able to respond to accounting and compliance needs.
Major risks
Adaptation to particular segments, groups and large risks, with a common structure that allows for the unification and homogenisation of the data to be managed.
Employee benefits
We have specific solutions for groups, including particularities such as Employee Benefits, based on our experience with the main mediators in the market.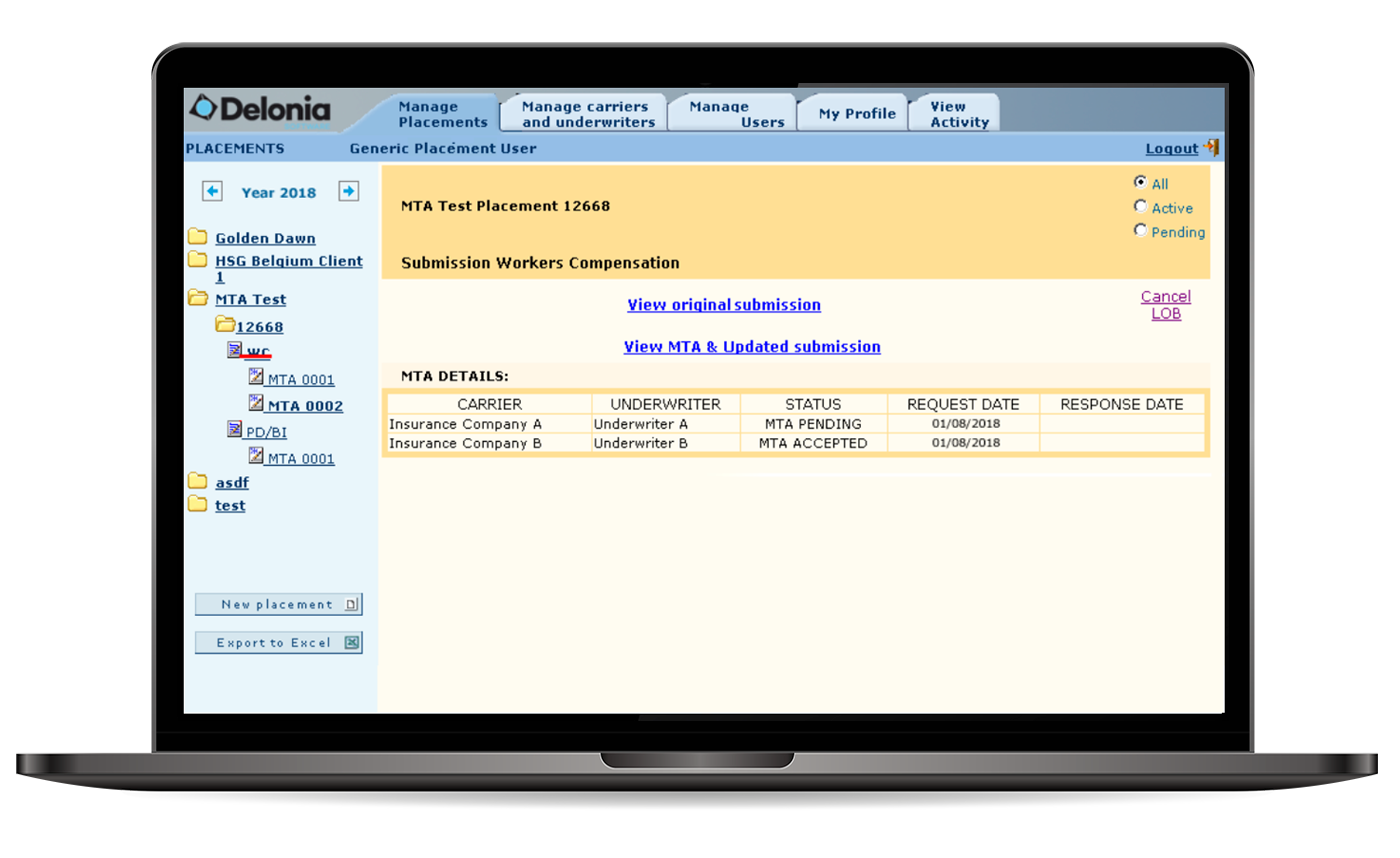 Solutions for the mediation of:
Private Insurance
Group Insurance, with specific solution for Employee Benefit management
Reinsurance,specializing in the mediation of large risks.
Pricing
Pricing and comparison of rates, management of quotations and issuing of policies for private insurance.
Claims management
Both in Direct and Reinsurance, being able to adapt the needs of management to the functions carried out in mediation (technical, accounting, risk management and actuarial).
Electronic signature
Electronic signature system for contracts with certification guarantee. Documentary repository of contracts.
Control panel
Management tool to measure the evolution of the portfolio and detect deviations from business objectives.
Placement
Placement of risks, both insurance and reinsurance, especially for corporate and large risks.
Risk Analysis and Control
Risk assessment, control and management through the verification of operational, financial and systems indicators.
Data Quality
To generate accurate data that is complete, complete, up to date, consistent, relevant, accessible to the right profiles and to detect those that do not meet the established parameters. Enable operational processes and quality analysis.
Complaints management
Comprehensive management of the entire lifecycle of a claim with customised solutions.