Yuming, first of all I want to thank you for giving us some of your time. Please, could you tell us a little bit about yourself?
"I am Chinese, I am 23 years old and I study at the University of Maastricht, the Netherlands. I am in my last year and my specialty is economics and information management. I refer to the broad field of digitization and all that it encompasses."
Why did you decide to come to Spain and how long did you stay in our country?
"I came to Spain because it is in the south of Europe and I was told that people here are open-minded and with a philosophy focused on enjoying life. My stay in Spain lasted four and a half months, I would say it was between 18 and 19 weeks. In that time I hardly left Madrid. I lived in a student flat near Tirso de Molina street. I don't know Dutch and I don't know Spanish and that was a problem during my stay in Spain because most people don't speak English, but it was my fault for not knowing Spanish."
What places were you able to visit during your stay in Spain?
"I didn't travel much in Spain, the truth is that, despite what it may seem, I'm not much of a traveller. What I love is eating. In Madrid I ate in many different restaurants, I would say that seafood is one of the things I like most. On the other hand, when I felt like Chinese food, I would go to a Chinese restaurant. In Madrid there are quite a few, although in Maastricht there are many more. In those restaurants the food is not the same as in China, but it's quite similar."
The language barrier
What did you like most and least about your experience in our country?
"Spain is a beautiful country where you can eat very well. My biggest problem was the language barrier. I don't speak Spanish and most of the people I met didn't speak much, if any, English."
Why did you choose Delonia to work as an intern?
"The Intern Group introduced me to José María (Corsino) and I immediately saw that he could be a fantastic boss. I first met him at a workshop meeting and then at Delonia headquarters. The people on the Delonia team speak English, so my choice turned out to be excellent. The relationship with everyone was very cordial. It was very important for me to be able to communicate in English with José María and the rest of my colleagues. I joined Delonia on 3 October 2022 and was an intern at the company until 8 February 2023″.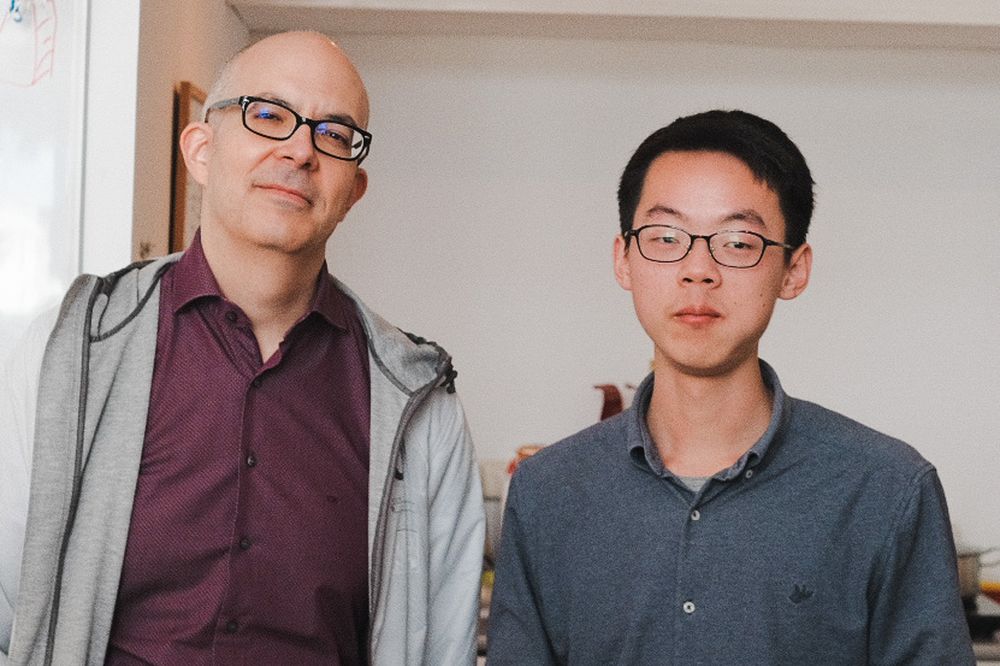 What was your work at Delonia?
"The most important thing I learned at Delonia was all about how to manage projects. The way to approach the work. I was involved in projects related to the insurance sector, data analysis and artificial intelligence and above all in business digitalization projects."
Who were the people you had most contact with in Delonia?
"I felt supported by my colleagues and I had a special relationship with Miguel (Silverio), Filippo (Volpe), Fernando (Angulo)… I spoke a lot with Bobby (Mohanty) who helped me on how to guide my career, especially with regard to the postgraduate course. He gave me some very important advice. The guidance José María gave me about my future career was also very valuable. José María talked a lot with me about what I could do in the future. We looked at four or five options with their pros and cons."
How long has it been since you last travelled to your country?
"The last time I was in my country was in February 2020, and I haven't been back for three years. Thanks to video conferencing, I don't feel so lonely. I don't have any siblings, I was born during the one-child policy. My parents are not rich, they are normal people. I am the first in my family who can study abroad, so I can't let them down. My parents, rather than worrying about me, are very proud of me. The experience in Europe has not been easy because when I arrived in the Netherlands I hardly spoke English. What English I know I learned during the first year and I still don't speak it well."
Crossroads: London or Madrid?
Where are you going to direct your steps in terms of your professional career?
"As for my future, I will soon have to decide whether to go to IESE Business School in Madrid or London Business School. I have been told that London is a very expensive city… All this could not happen without the help of my parents. The Chinese government doesn't help me, I don't have a scholarship or something like that. So I have to make the most of my time and not let my parents down. The education system in China is different from Europe. I think when you are young it is very important to have international experiences. We live in a globalised world, so I think it is vital to get used to differ."
"When the time comes I will evaluate all the options and decide whether to stay in Europe or go back to China. The European option is not easy because it is impossible to work in a country if you don't know the language. I would have to learn Dutch or Spanish… This is different in Europe, there are many countries here and each one has its own language."